FALLEN SOLDIERS OF DJU
DJUKNIGHTED.. INDEPTH PRODUCTIONS
WHAT WOULD LIFE BE LIKE
Daniel Dan Scarz St Amour Born 1988- Died May 19th 2012, at Age 24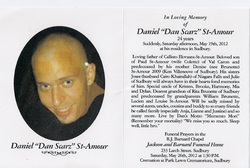 ---
IVAN DAVID PILON BORN 1986- DIED AUGUST 19TH 2002. AT AGE 16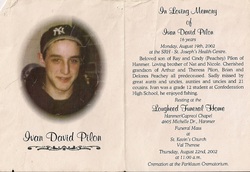 IVAN GREW UP IN HANMER, SUDBURY ,ONTARIO BUT WENT TO SOME SCHOOLS HERE IN SUDBURY, ONTARIO. IVAN had and still is a member of DJU KNIGHTED, and a BEST FRIEND of mine since child-hood. We hung out together all the time . We went to primary school together that is where I meet IVAN, as of then we have been brothers. We had awsome times together, and we did lots of crazy things together. Getting in trouble was a few things that we were good at. IVAN was an awsome guy with a great since of humor, also a good brother, and an amazing friend who is sadly missed everyday. IVAN is remembered in DJU KNIGHTED and the music, lyrics, and memories. This is for you brother never forgotten. REST IN PEACE MY BROTHER, ALWAYS AND FOREVER.
---
REAL HASTINGS BORN NOVEMBER 1ST, 1989- DIED DECEMBER 10 2007. AT AGE 18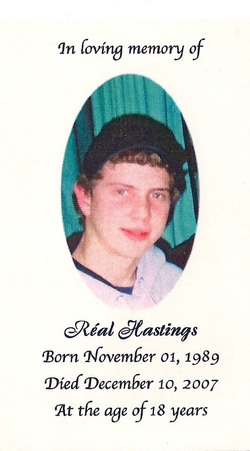 REAL HASTINGS WAS RAISED IN NORTH COBALT, ONTARIO, CANADA. REAL WAS MY FIRST COUSIN. MOTHER TAMMI AND FATHER STEVEN HASTINGS. REAL and I had hung out since he was born. We had fun times together. No matter what party we would go to REAL'S TEMPER would get the best of him. He was always quick to throw his fists didn't matter who it was, and I always had to bail him out whether it be saving him or getting him out of jail. We would always get into trouble . Even know I grew up in Sudbury, when I would go up to North Cobalt to visit you would definitly find us together,on snow mobilies, four wheelers, or even driving in the truck or jeep. The fun stuff you get to do in the North. REAL was a great cousin, also he was and still is one of my DJU KNIGHED crew members. He is always remembered in my music. I will never forget the awsome times we had together. I will always miss you and remember you Brother. ON MY FIST YOU SHALL REMAIN. FOREVER. ON MY FIST YOUR NAME SHALL REMAIN.
---